Well I left off just as our families were coming into visit and to meet their granddaughter or niece.
It was awesome introducing everyone to her and we got tons of pictures of everyone holding her. My mom and sister made her a birthday cake decorated in red white and blue. After everyone had been in the room for a while I started to get really hot and feeling like I was going to throw up. My blood pressure was spiking even higher and then I got sick. That was the worst pain I have EVER felt in my life. Even with the long acting morphine that they put in my spinal. I was miserable for about 5 minutes, like wanted to die miserable but then after I got sick I felt so much better so quickly it was great. Though of course my blood pressure was still up, and continued to be the entire time we were at the hospital. They monitored me several times a day the whole time we were there.
All of our family members got to hold Brynn and love on her. And beg us for her name, which we still hadn't decided on at that point. We got pictures of everyone with her and it was such a special time watching everyone with her.
My Mom and My Baby!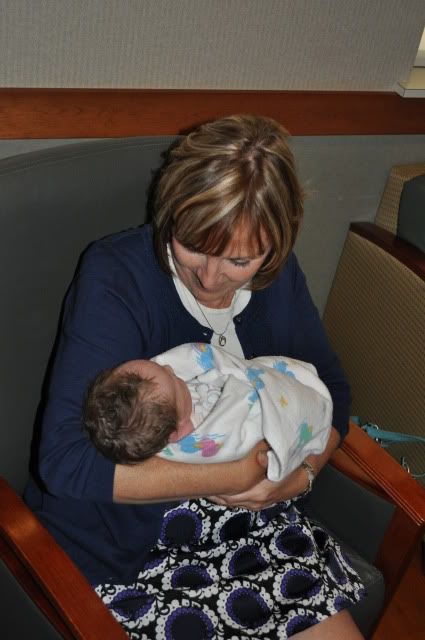 My Dad and My Baby!
My MIL
My FIL
My Sissy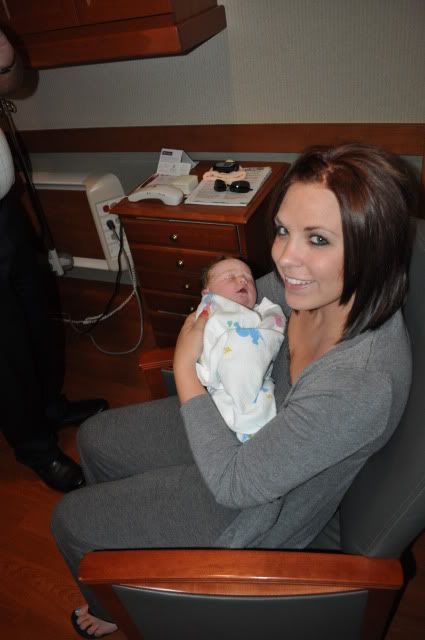 My Brother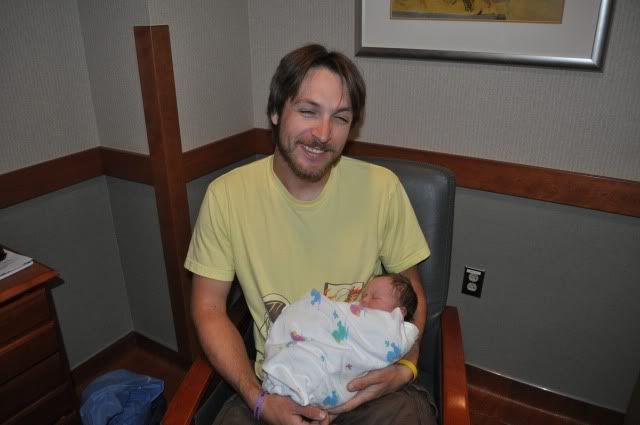 My dad made me tear up like 3 times. My mom got me a necklace I have wanted my entire life. When I was born my dad got her a necklace that has a mom and a baby that form a circle and I always told my mom when I had a baby I wanted one of my own. I also told Jeff I always wanted one and we looked and looked but all of them that I had seen were ugly and not my style. I wanted simple and silver just like my moms. She found me one. It has a tiny little diamond right under the baby and I LOVE it. I haven't taken it off since we got home from the hospital.
After everyone left for the night Jeff and I got to spend more time snuggling our little one and we couldn't have asked for a better thing. Neither of us or any of the nurses could stop talking about how beautiful she was (and I still can't!) Since I was stuck in the hospital bed not able to get up, or even move too much we sent our baby to the nursery that night and had the nurses bring her back when she needed to eat.
Around midnight we heard some noise from the other room, it was the fetal monitors and someone was in labor. We both commented that we thought it was crazy that we could hear that quiet sound. We got up a few more times during the night between feeding baby girl, getting pain medicine and having vitals taken. Which reminds me I forgot to mention that baby girls Apgar scores were 7 and 9!
The next morning when I checked my phone I had a text from a friend asking what room we were in..... turns out she was the person in the room next to us! She had a healthy baby boy at about 3:45AM. Her labor progressed so quickly that she didn't have time for an epidural and was worried that we had heard her screaming. It was crazy that we didn't because I was up at the time she was delivering him!
Her husband came over to visit around 10 ish that morning and she came by shortly after. Finally around noon I had my catheter removed and was able to get out of bed! It hurt so so bad!!! Every little step hurt. Turning to the side hurt, bending my legs hurt. Even with the morphine and the other pain meds. UGH! I wasn't happy about that.
We had a few visitors that day and I LOVED it. My mom, sissy and one of my aunts and little nephew came to visit, though we knew Chance couldn't come back to see us. :( They were all excited to see her and love on her some more. 3 of our good friends came to the hospital that day and they hit the jackpot since they got to meet 2 new babies in one shot! :) My very best friend and her husband (the other new dad's cousin) came up that afternoon and were bouncing back and forth between rooms. Some of our friends family stopped by to say Hi! and before I knew it we had tons of people in our room and got pictures of both new babies together. It was really such a cool experience. I'm so glad we got pictures of it!
Me, Brynn and our friend and her baby boy!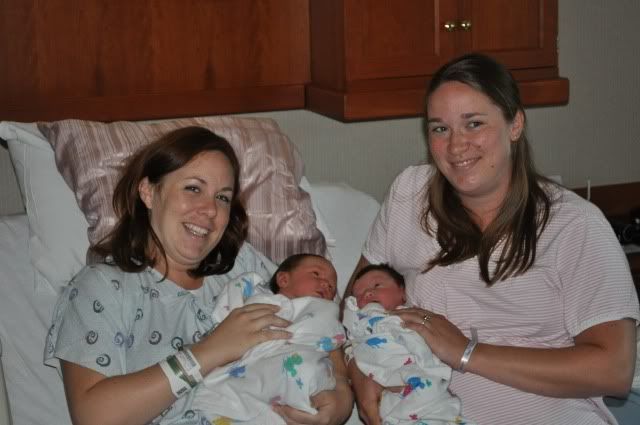 The Babies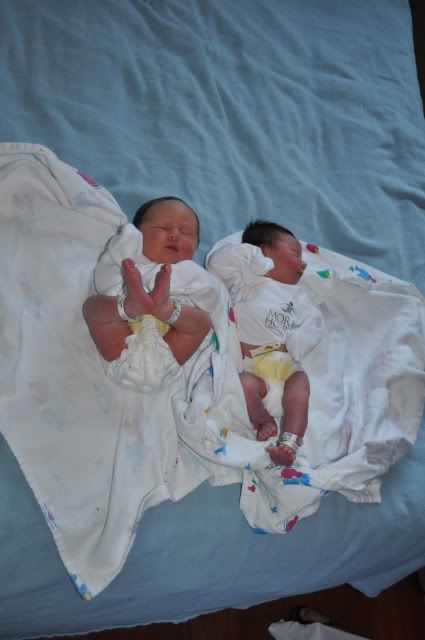 My BFF! She was soooo excited!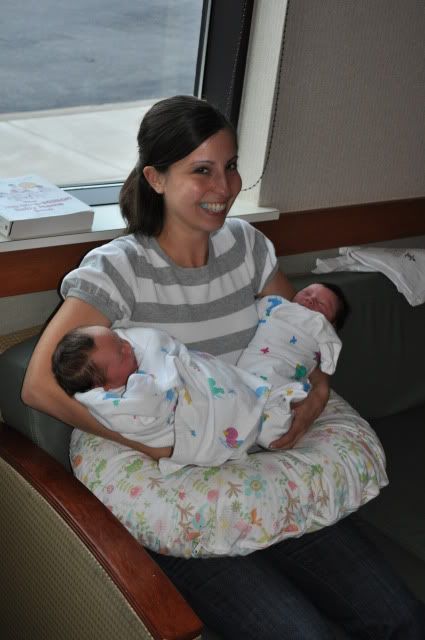 While my BFF was there is when we decided on her name, at least her first name. The way we decided for sure was because I didn't think she looked like an Ellie and Jeff didn't think she looked like a Ryleigh (our other name choices). So Brynn it is! :)
That night went great and we had baby girl in our room most of the time because she was cluster feeding A-L-L day and night.
The rest of our stay at the hospital was great we spent lots of time snuggling our little girl and visiting the people that came to see us. Friday morning my mom came back up because Jeff had to go to a DR appt for his back and neck. Then that evening my aunt and cousin came to visit and Jeff's parents as well. Saturday Jeff's BFF and his wife, one of my good friends came to meet our little girl.
It was around 6 that night that we decided to go home that night instead of staying until the 4th.
Us leaving the hospital,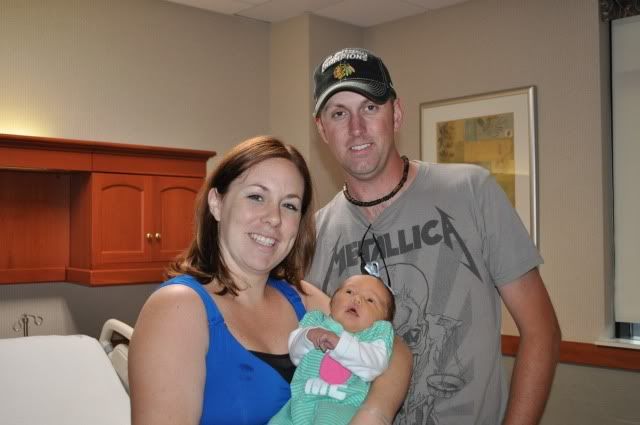 I'm so glad we went home when we did! Jeff was in so much pain and I was just ready to be home. Plus..... Brynn got to see her first fireworks display that night!! Our town does fireworks every year on the 3rd and we got home about 1/2 hour before they started so we walked out to our fence line for a few minutes to watch them. I was very happy about that.
Our first full day home was my favorite day of the year. The 4th of July! Brynn had 3 4th of July outfits that she had to wear so her outfit was changed multiple times that day!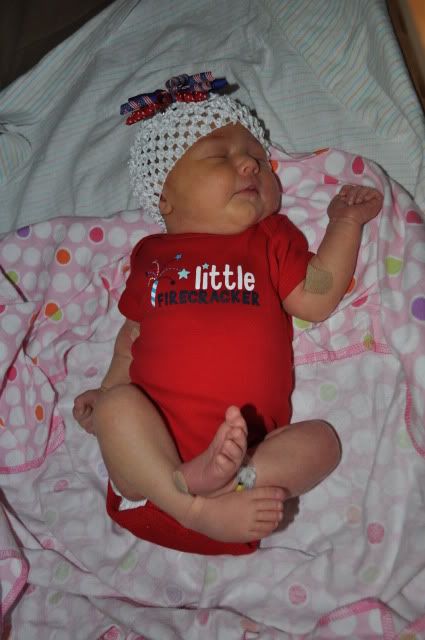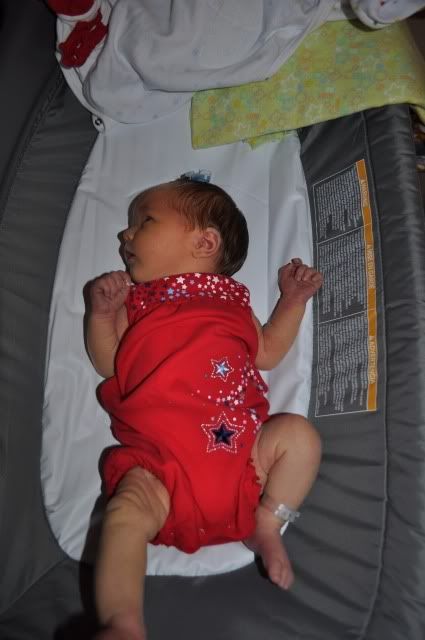 Oh and introducing her to the dogs went much better than expected. Gus is very very curious about her and always wants to be near her.
For the next post how about I just overload you with pictures?! I like that idea!