I haven't posted in a while because I have been busy loving on my Brynnie Bee! So lets catch up shall we?!
First off Bon Jovi was AMAZING!!!!! As if there was any doubt! The only issue I had that night was the lack of margaritas at Soldier Field. :( So I settled for a Mike's Hard Lemonade. It wasn't nearly as good as a margarita would have been..... but don't worry I have had one since then. And it was just as delish as I remember! Well back to Bon Jovi... the night was awesome. I had a blast with my mom and my cousin. Kid Rock opened and was excellent. I saw him several years ago at a huge concert with 13 bands and he was even better now. I'm not a huge fan but I like him enough. However, I'm a HUGE fan of Bon Jovi of course. My rule is you do not sit during his show. And even though my body was killing me and my incision site hurt a bit I stuck by my rule.... and then walked a couple miles to my sisters to get to our car. Oh and I for sure wore my "Wanted" tank that I made and mom was rocking out in her "Shot Through the Heart" tank. We made them last time he was at Soldier Field and have worn them every time I have seen him since. Oh and I almost forgot one of the best parts of the show.... he wore a Blackhawks jersey! :) Swoon. The only thing I'm bummed about is at the show the next night some of the Hawks were there with the cup and I missed it.
Since then things have been great. Last weekend Jeff, Brynn and I went to Starved Rock (where J and I got married) went for a bit of a walk and had dinner. (When I had my margarita!) We took a picture of the 3 of us at our ceremony site. It is a bit far away but I like it anyway.
Then this past weekend we had our first overnight away from Brynn. It was so hard to leave her but I was looking forward to the night. We went to a wedding for one of Jeff's cousins. It was a blast. But I was very very happy to get home on Sunday. She stayed with my mom and dad. And my aunt and uncle were in town so mom and aunt had a blast with her. I got a couple super cute pictures of her Sunday afternoon. I love them. And cute pics of her and Chance-a-roo!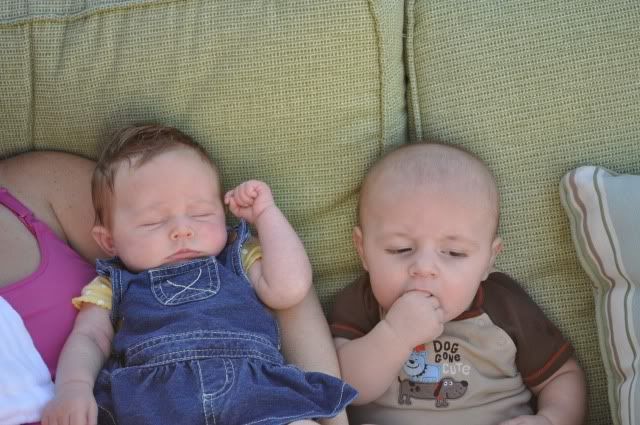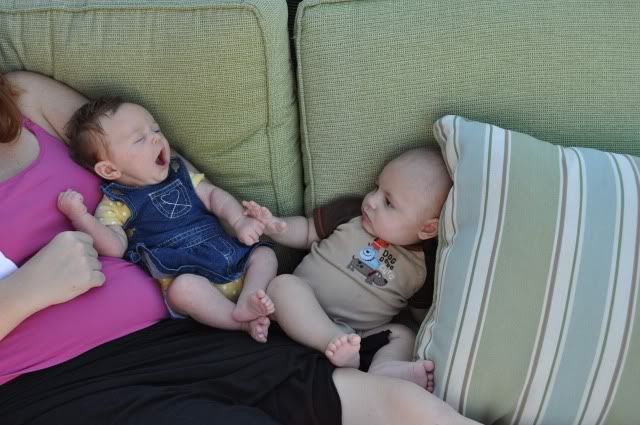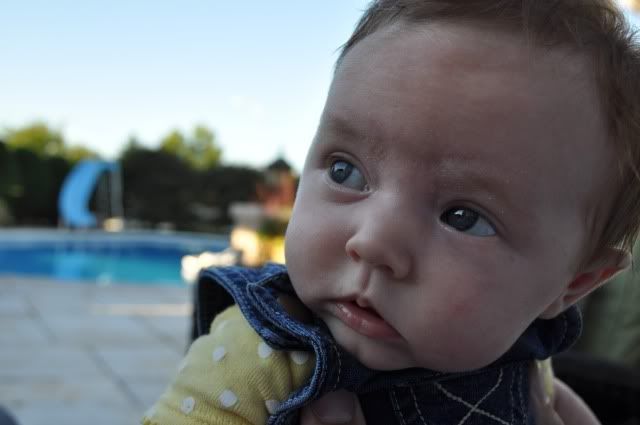 Now onto the bad news.......... I had to start working again today. NOT COOL! At least I get to be at home still though. I will be working from home until the first week of October. And now back to some good news....... 1 month from today Mom, Sissy, Chance, Brynn and I will be in Florida visiting the same Aunt and Uncle that were just in town! While we are there we will probably be doing pictures with a photographer whose blog I follow regularly and I'm so excited about it. I LOVE her work.
http://www.kellehampton.com/


Also I haven't mentioned it on here until now but we are using cloth diapers and I LOVE THEM! I'm so so happy we decided to go this route. It is so easy and so so so much better for Brynn, and for the environment! Did you know that every.single. diaper ever used is still decomposing in a landfill somewhere? That is just disgusting. And it is saving us so much money! The average child will cost about $3000 between birth and potty training to diaper. We will spend about $600-800 from birth to potty training and we can use the same diapers for our future children as well. It is kind of a no brainer to me. We have gotten most of our diapers from Cutie Poops and Bottoms. It is a great store in Orland Park and the woman who owns it and the employees are so helpful!
http://www.cutiepoopsandbottoms.com/
They are also on facebook. You should check them out and become a fan. And if anyone is needing cloth diapers and you purchase from them please check out the information on their site and use me as a referral. (The referral info is under the Specials, Sales, Promos and Contests part) I would appreciate it. If you need my information to do so just leave me a comment with your email and I can send it to you. Here is a picture of our cutie little girl in one of her adorable diapers.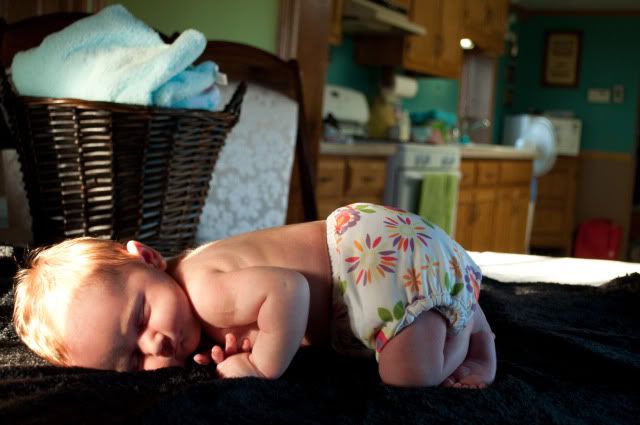 I'll leave you with a few more photos of our newborn shoot. I'm so in love with them!