Now after the last post you may be asking yourself what is baby led weaning? Well in one word it is AWESOME!
Originally my plan was simply to make B's food. Using things we grew in our garden. Then I heard about BLW.
Here
is a good website to use if you are interested in learning more than I tell you about it.
I was intrigued from the minute I heard about it. I bought the BLW book and I knew that it was for us. The simplest explanation I can give you is that basically you don't give your baby purees. (ala Gerber) Here is a good quote from the website I linked above.
"You just hand them the food in a suitably-sized piece and if they like it they eat it and if they don't they won't. (But they do, really they do… check out the baby with the pork chop).
That's the essence of Baby Led Weaning. No purees, no ice cube trays, no food processor, no potato masher, no baby rice, no weird fruit and veg combos… just you and your child, eating food that you enjoy with you and your family."
B's first food was a slice of avocado. We then moved onto sweet potatoes (which she isn't a big fan of) carrots, squash, green beans, apples, pears, bananas, peaches, breads, pasta, chicken, steak and lord knows what else she has tried at this point. haha. We started out steaming everything (except things that were soft to begin with). We no longer steam everything now that she has the chewing thing down - even though she still only uses her gums. (I do still steam quite a bit of it though.)
It was slow going at first but before a baby gets their "pincher grip" start out with foods shaped like fries so they can grab hold of it. Once they get that pincher grip down you can offer foods in smaller pieces (make sure they are small enough they can't choke.) I know you are probably thinking what if my baby doesn't have teeth yet? Well B didn't when she started eating. It sure didn't stop her! She still only has 6 teeth (all in the front) and girlfriend eats like I will never feed her again once you put food down in front of her. And now that I mentioned the choking thing you are probably wondering about that as well. Never once have I had to get food out of B's mouth. Some babies gag a bit a time or 2 (or 3 or 4 or 5) but that's typically all they are doing. The gag reflex in babies is much farther forward on their tongues so they gag and push the food back forward before it gets too far back to choke them.
Oh and you you may be asking why this is earth friendly well lets think about all those glass jars and plastic tubs we aren't wasting by using store bought foods! :)
Here are some pictures of my B enjoying many many different foods:
Christmas Eve and her very first piece of avocado
Her first "wagon wheel"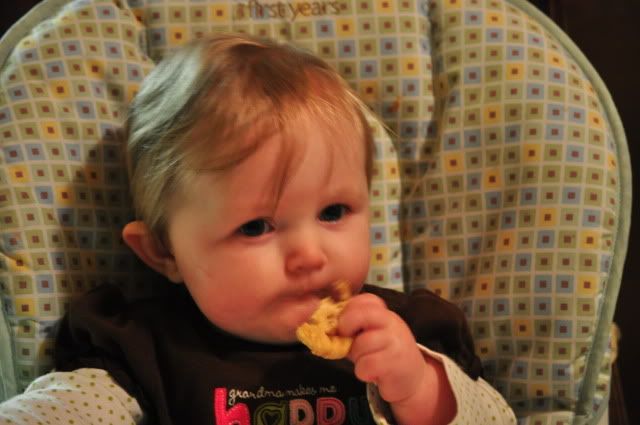 Carrots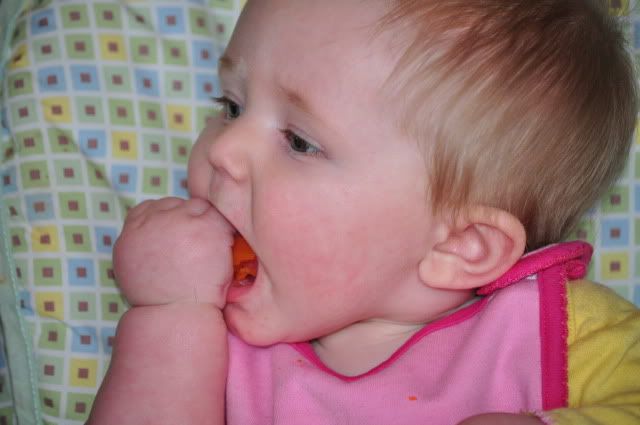 Green Beans
She wasn't sure about bananas at first but now she loves them.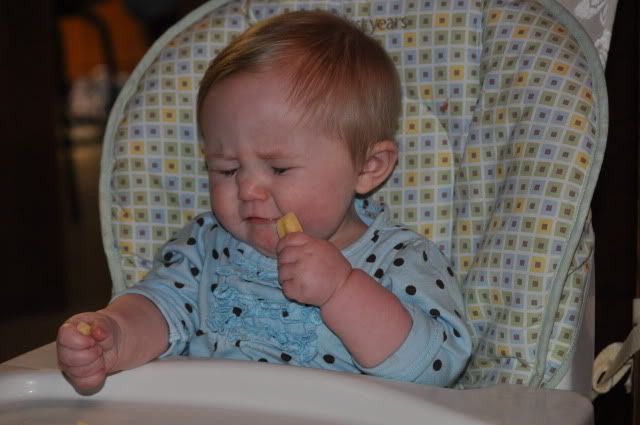 First time with blueberries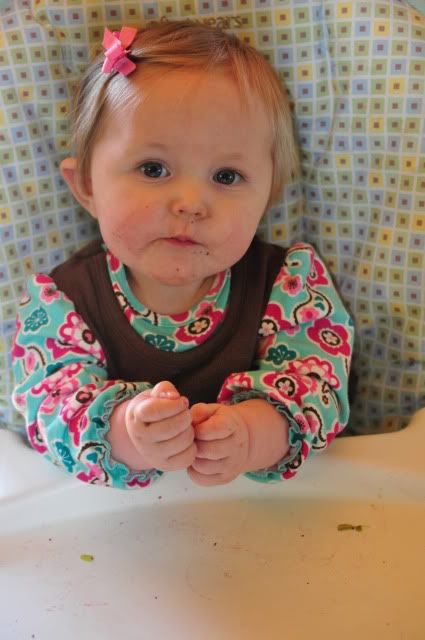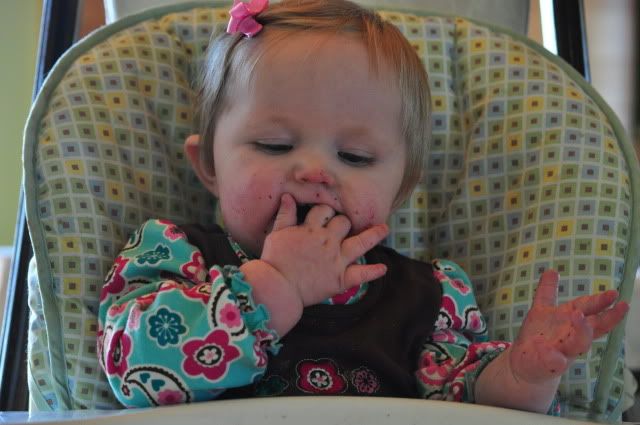 Yes they can get messy eating like this but seeing her learn and enjoy food is worth any mess! I hope that if you decide to try this method that your baby doesn't mind wearing bibs!
Next up on this list will be baby wearing. :)
xoxo...P