I know it is late coming but.... I think I fell in love with Christmas again this year. My love of Christmas comes and goes, at least my love of Christmas decorations come and go, though to be honest it is usually gone. But this year my little B has renewed that love. Just like she has renewed my soul, my heart and my life. This year I felt like a kid again, and that was pretty great!
Our Christmas celebration started December 19th when J, B and I went downtown Chicago for the day. We parked at Navy Pier as we usually do. Since we have wonderful memories at the pier and a place in our hearts for Jeff's uncle who used to work there that way we know we will be there every time we are downtown. (Plus it is a bit cheaper than most other garage parking we have found!) Our first destination was The Walnut Room at Macys (which will forever be Marshall Fields to me.) It was my first time being at The Walnut Room and it was perfect, I had zero expectations going in but I'm so happy we went. Brynn sat in a big girl high chair for the first time while we were there and she l.o.v.e.d. every second of it.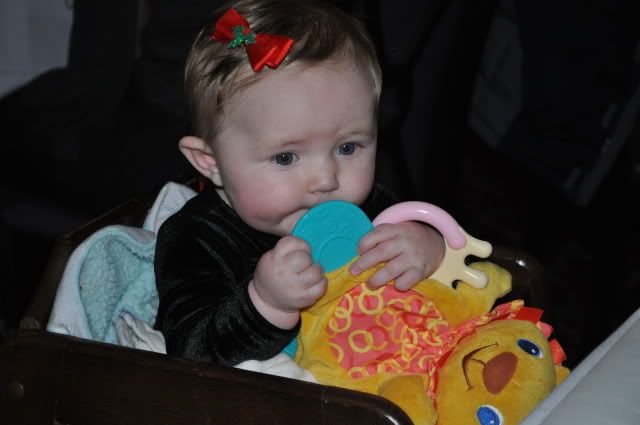 She didn't stop chatting with her toys or her dad and I. It was music to my ears. And the food you ask? AMAZING! J said his Swedish Meatballs were the best he has ever had. The salmon was incredible!
While we were there we had plans to see Santa but the line was almost 2 hours and we weren't going to risk B having a meltdown standing in line. So off we went to Daly Plaza for the Christkindle Market (or something like that). J and I have gone every year we have been together and will continue that tradition for as long as we are this close to the city.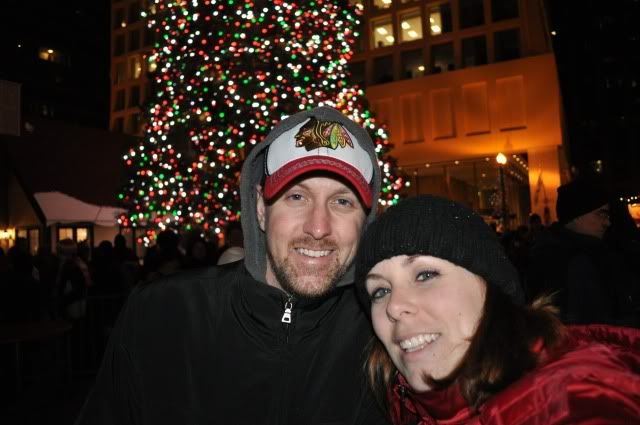 B slept the entire time and man did we have her bundled up! It was cold out! She had on fleece jimmy jams (jammies), a snow suit and was in her car seat with a cover on it and a blanket to cover the face hole. Don't worry we peaked in to check on her from time to time. When we took her out she was a sweaty betty! ;)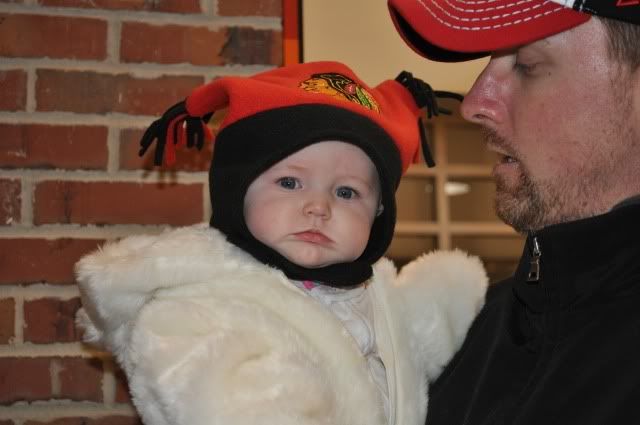 I had my heart set on pictures with Santa so off we went back to Navy Pier and let me tell you that was the right decision! There was only 1 person in line to see Santa! Brynnie Bee did so great. Not a single tear... though she did want to rip Santa's beard off! My little punk butt! :)
FF to Christmas Eve.... We spent the night at my parents house for dinner and a few gifts. What a whirlwind day/night. Before we left for my parents house my mom called to say that my dad's mom was on her way to the hospital. She has cancer so I assumed it was something related to that but it was a UTI and sever dehydration. She came home on Jan 1st and is improving.
But that night we got some adorable pictures of the babies and I got to give my sissy and her boyfriend their Christmas present. FINALLY!! We gave them a 20"X24" Canvas print of a picture I took of their family. Sissy may or may not have teared up. ;)
Some random Christmas Eve pics: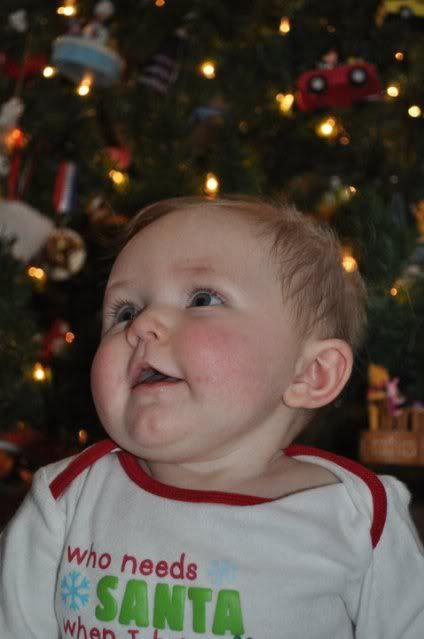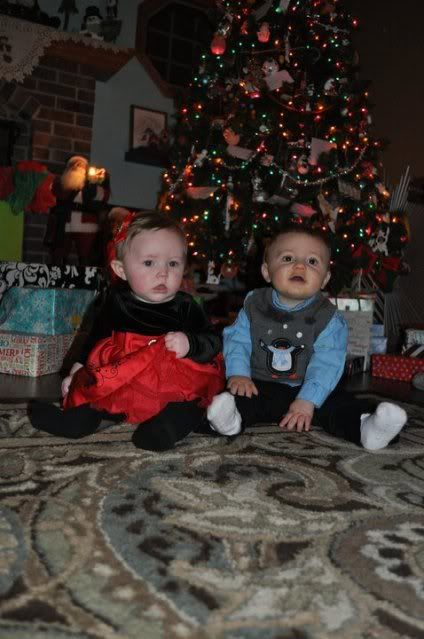 Oh and B had her first taste of "real food" on Christmas Eve. Avocado! She was so cute eating it.
We spent the night at my parents and got up the next morning to do my favorite Christmas tradition.... gifts and brunch! I LOVE Christmas brunch. Swedish pancakes and monkey bread. Oh yum!
Here are some Christmas morning pictures. Before the crazy present opening.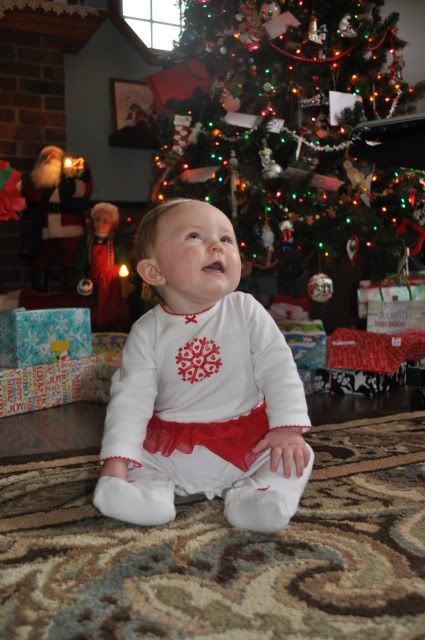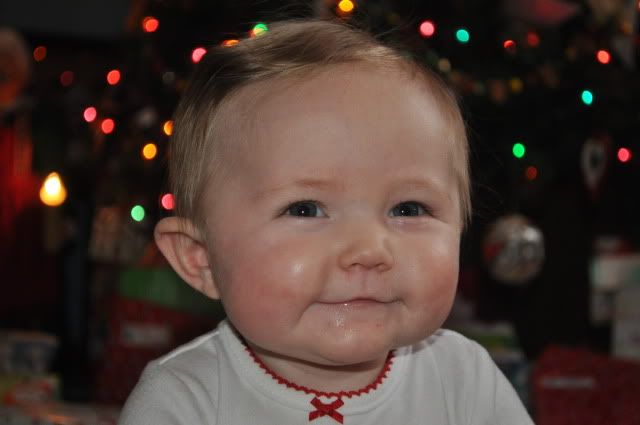 Brynn was sad Chance was crying. :(
attack of the present!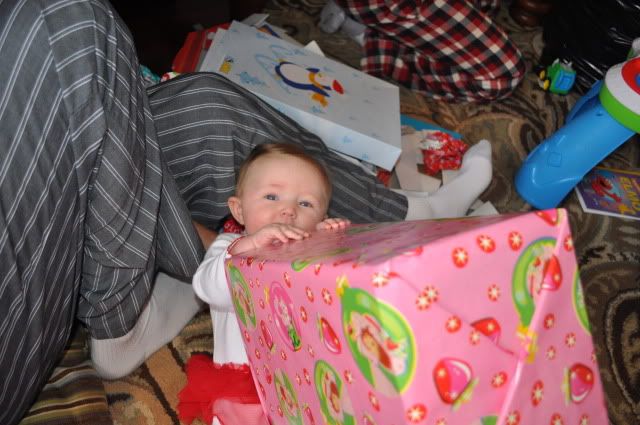 My girls first camera! Love!
Yummy snowball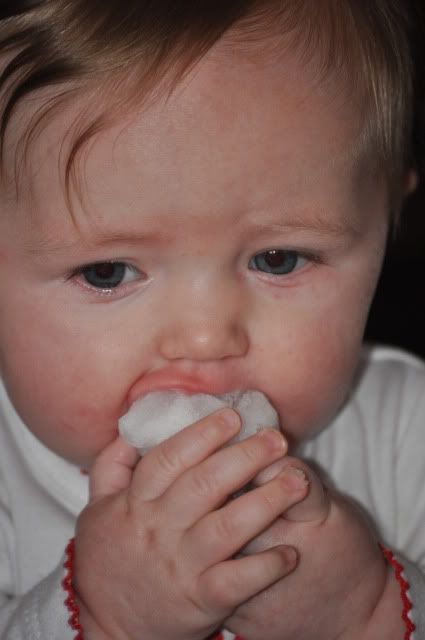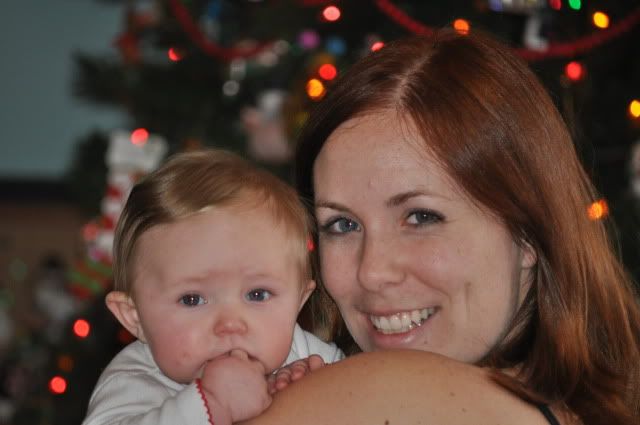 We got a canvas for my parents too!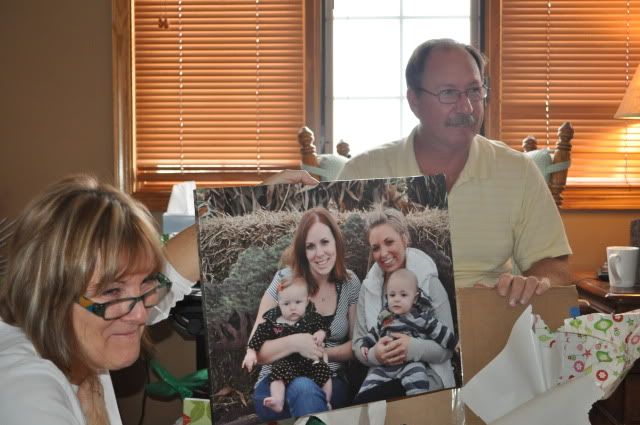 After brunch we packed up our million gifts and headed to Jeff's parents for dinner. We got Jeff's parents a canvas as well but I don't have a picture of them where you can see it. :(
My pretty little tomboy!
Jeff's Aunt & Uncle gave her this chair that was made by his Grandpa!!!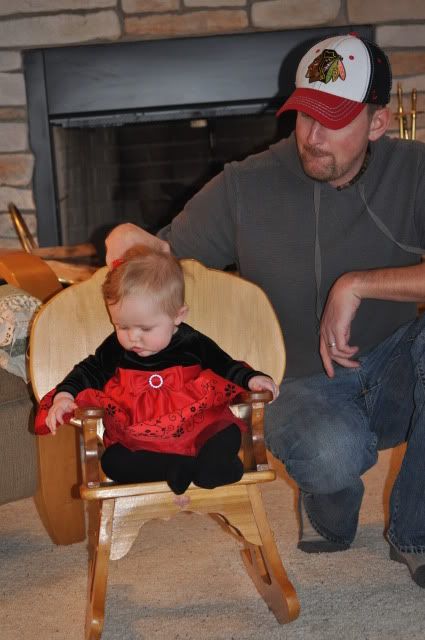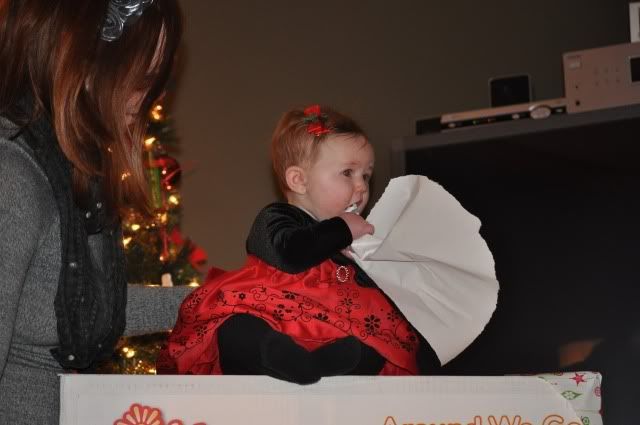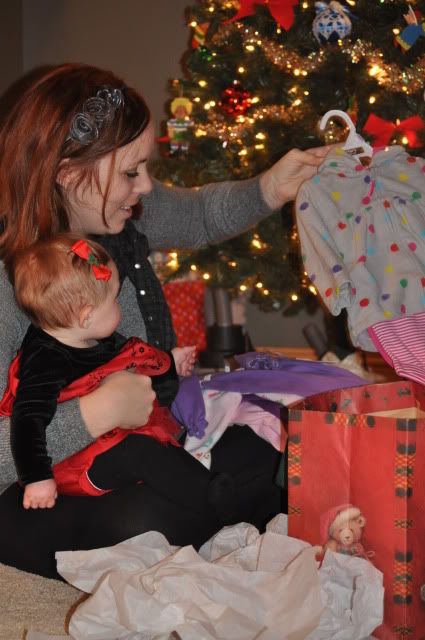 More avocado yumminess!
I know it is late but I hope everyone had as wonderful a Christmas as we did.
xoxo...P