OK so which one of you didn't cross your fingers for the Hawks??? Hmmm? Well whoever it was I blame you for their loss! Not cool! It was an awesome game up until the stupid Red Wings scored that last goal in overtime. That was a crushing blow! But.... Look how cute my shirt is!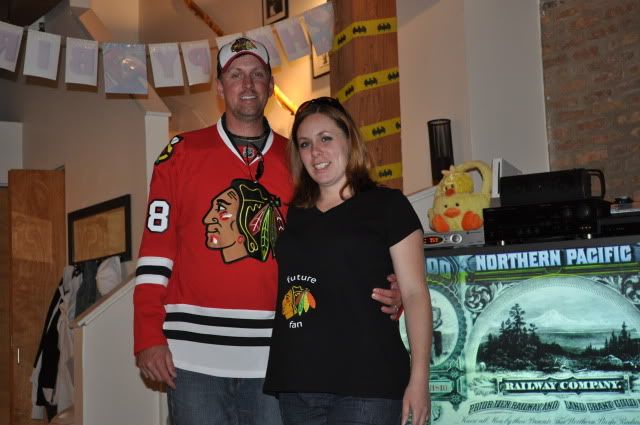 I have to say though I had a great weekend! Friday I got to leave work 1/2 hour early to go to the movies with Mom and Dad. (Just one perk of working for your dad.) We saw The Last Song. It was better than I was expecting since I loved the book. (I sobbed for over an hour when I read it.) And miss Miley Cyrus didn't annoy me too much. But after the movie Mom and I had a party to go to. It didn't start until 10PM. I'M TOO OLD AND PREGNANT to start partying that late. But it was for my sissy's boyfriend so of course we went. It was a surprise 26th B-day party. We went a bit early to help set up and I got some snuggle time in with my little nephew so I consider the night a success!
Saturday mom and I went shopping since I spent the night at their house. We were looking for something I need for Little B's room decor and may have found what we need. Not sure yet, need to show J the options. Then we spent what felt like 4 hours in Babies R Us, even though it was less than 1. My mom has a bunch of baby showers to go to (and one to plan) so it was quite the productive trip. But man was I exhausted when I got home!! The best part of the shopping trip was the cute dress I got for little B for next summer. I LOVE IT!
Which brings me to Sunday! Loved our day Sunday. We obviously went to the Hawks game and it was a great game up until that stupid goal. I'm kinda bitter about it. After the game we went to my sissy and her boyfriends house to hang out while mom babysat for a while. Little man is an angel! I got to snuggle him for almost 2 hours! I loved it.