Boy oh boy does Brynn know how to have a good time! And holy cow does she have the toys to help her with it!
One of her favorites from the time she was itty bitty is ... wait for it, wait for it....
"holey" cow. Soooo cheesy I know! (I love it)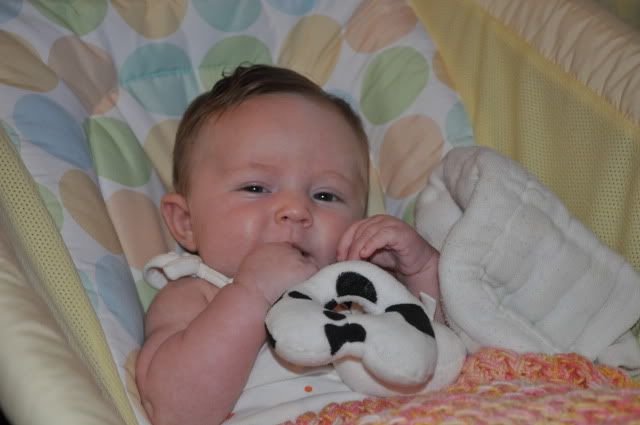 (Look at how little she was! This picture is from our vacation to FL. She was almost 3 months old.)
She also LOVES Sophie the Giraffe. Girl grins from ear to ear when she first hears that squeak.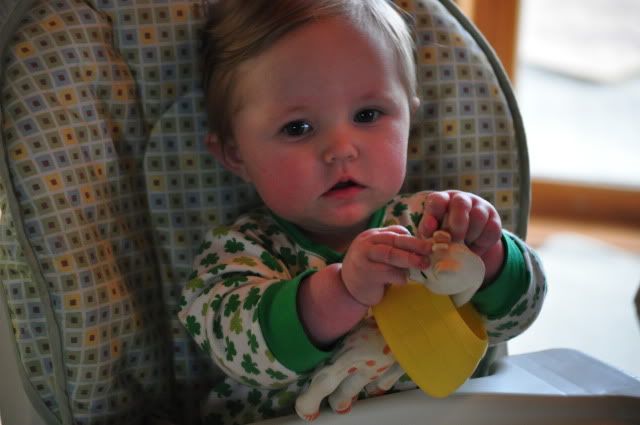 (She now gives Sophie necklaces. haha. This was from ... St Patricks Day! I bet you couldn't guess based on her outfit!)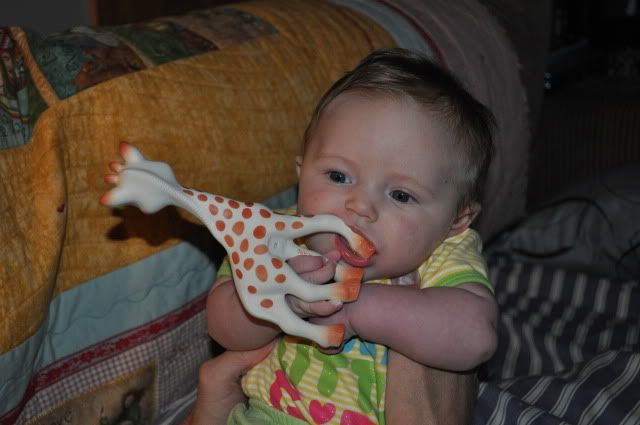 (She was a little over 3 months in this picture)
One of my favorites (and just because of what it is...) her first camera! Yay!
(From Christmas - almost 6 months)
One of her very favorites that she spends a ton of time with (especially on days I work from home) is her exersaucer! I got an amazing deal on it at Cutie Poops when the owner was selling it because her twins outgrew it.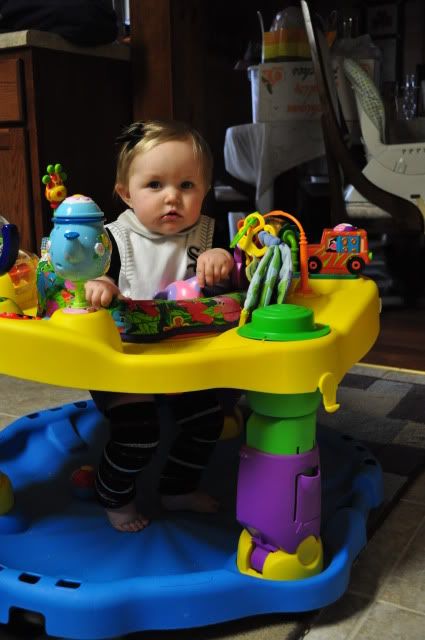 For Christmas her Auntie Jessy and Uncle Scotty got her her very first kitchen. I stink'n love this toy. It gets old don't get me wrong but watching her play with it makes hearing "Put some water in the sink, if you're thirsty pour a drink, clean the dishes, fill the pans and don't forget to wash your hands." about 50 times in a 10 minute period not so terrible. She shrieks and screams at it the second that song starts. She has also started "dancing" along bouncing up and down. It is adorable!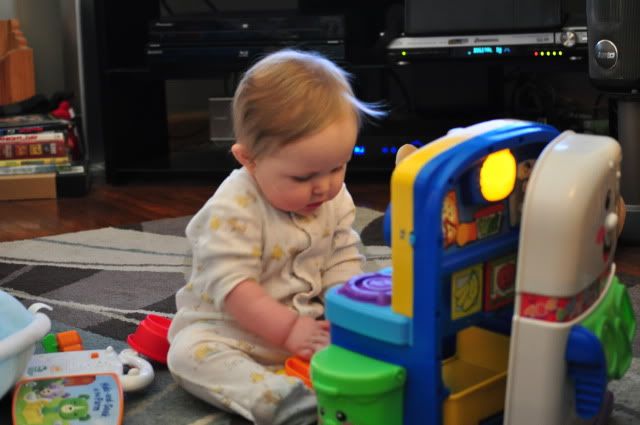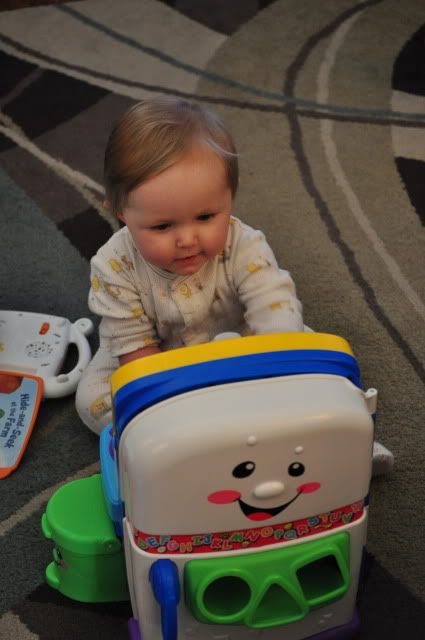 (These were from just a couple weeks ago.)
Oh and her puppy. She has had a love affair with the puppy from about 1 month old. It is so funny and she laughs hysterically when I sing along with The Itsy Bitsy Spider or Head, Shoulders, Knees and Toes. And to watch her do "SO BIG" when the puppy says it is pretty darn entertaining I'm not going to lie.
(This is also from a couple weeks ago.)
Baby Einstein's Take Along Tunes may be one of the best inventions ever. She lights up when she hears it. She will climb over anything in her way to get to it when it is playing. (Ours is an older version it looks pretty different but I'm willing to bet this would get the same joyous reaction!)
There you have it B's favorite toys! Maybe it will help one of you with gift selections or buying for your own little one.
xoxo...P