BGG has still got them and I'm soooo happy!
She is so cute!
We had an UltraSound today to check on the fluid on her kidneys. The fluid is still there but it hasn't gotten any worse so thats good. The DR will update us on it next week. Little B is even more breech than I thought. The way I feel her moving in there I thought that she was butt and feet down but OH NO! Her feet are all the way up by her head. In other words they are in my ribs! (Just as they should be if her head was down but noooooo!) ;)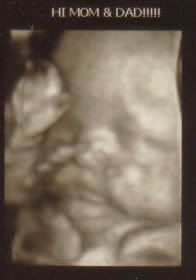 After our DR appt today I came home to find a package waiting for me from my nestie angel! I was so surprised and I LOVE IT! She made, yes made, BGG a quilt. It is gorgeous and her thoughtfulness and generosity brought a tear to my eyes. I have technically never even met her but have been talking on our message board for a few years. What an amazing woman!
And in other news mommy, Sissy, little nephew and my cousin are coming over tomorrow and I'm excited. We will get BGGs room done! (Except for a couple little things I still need to buy. But that is no big deal.)
Have a great night everyone and ...
GOOOOOOOOOOO HAWKS! Kick some butt!